13 November 2012 – Talk at 18th Bristol Cub Scouts
10 November 2012 – Sale at Doynton Village Hall
28 October 2012 – Morning service at Clementswood Baptist Church, Ilford, Essex
27 October 2012 – Talk at Harvest Supper, Clementswood Baptist Church, Ilford, Essex
26 October 2012 – Whole school assembly and talk to Arnold House at Tonbridge Grammar School, Kent
20 October 2012 – Nathan Jones returns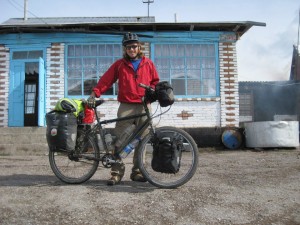 home after a year on the road, cycling from Bristol to Japan to raise money for Friends of Alalay. Please sponsor his efforts directly here
20 October 2012 – Lara, Sarah and Clare run the Richmond River 10km for Friends of Alalay. Sponsor their great efforts here
13 October 2012 – "Great Charnwood bake-off" at North Bristol Post-16 Centre
15 September 2012 – Stall at Kingsdown Homegrown Fair
1 September 2012 – 'Wonderland Fun Day' charity fundraiser at No.4 Clifton Village
18 August 2012 – Stall at Marshfield village fête
22 July 2012 – Mike and Lydia's parachute jump for Alalay!
8 July 2012 – Saltford Walkers' cream teas and sale
4 July 2012 – Talk at Henleaze Townswomens' Guild
4 July 2012 – Sponsored leg wax for Alalay at Cotham School
24 June 2012 – Jay Williams completed the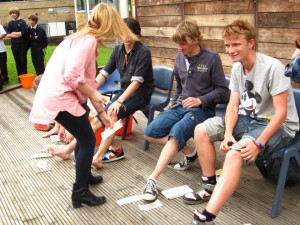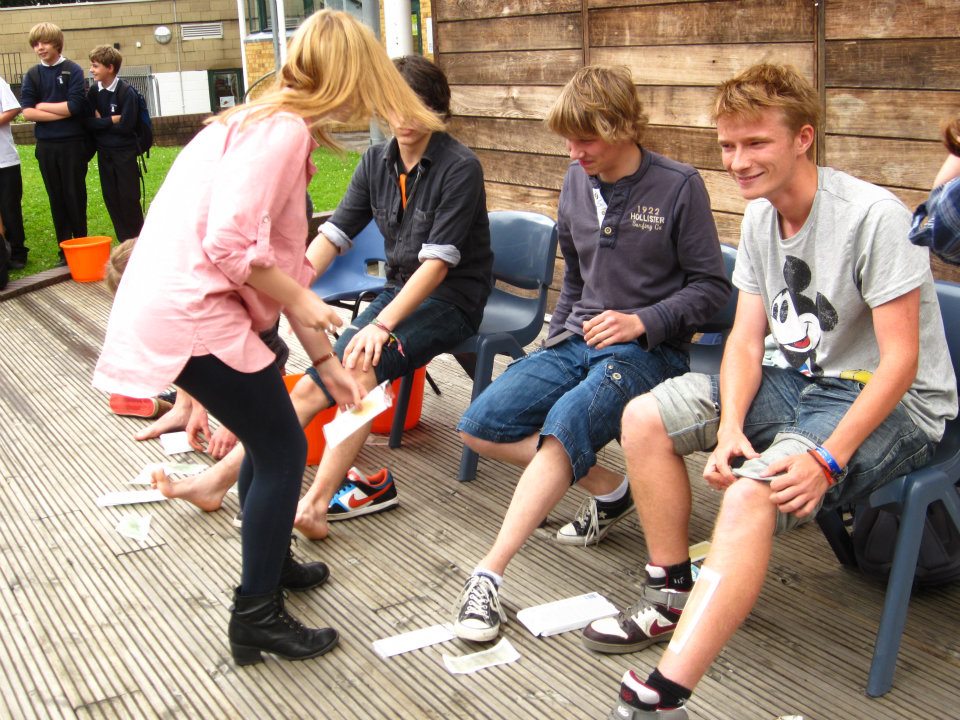 Bath 100 course, cycling 100 miles through the Cotswold Hills, completing the course in 8 hours and 40 seconds.
24 June 2012 – Amelia Warr ran Jericho 10km. Please sponsor her fantastic efforts here
16 May 2012 – Talk at The Homemakers' Ladies Guild, Keynsham
9 May 2012 – Talk at "Ladies' Leisure" group in Coalpit Heath
28 March 2012 – QEH Lower School sponsored hike
20 March 2012 – Short presentation at Redland Green Allotment Association AGM
14 March 2012 – Stand at Responsible Business Exhibition, Islington
10 March 2012 – Craft and cake sale in Doynton (daytime)
10 March 2012 – Saltford Walkers' Group Social and short Alalay presentation (evening)
8 March 2012 – Talk at QEH School assembly
1 February 2012 – Reception at the House of Lords to promote relationships between Britain and Latin America. Baroness Hooper (chairman of the All-Party Parliamentary British-Latin America Group) addressed the event, and I had the opportunity to once again speak with a great number of interesting people about Alalay.
25 January 2012 – Olly of Cotham School, Bristol sells cakes and paints himself purple to raise money for Alalay! Olly and friends are raising awareness of Friends of Alalay as part of their work towards their Duke of Edinburgh Gold Award.