Sixth year
This year, Friends of Alalay had lots of media support for its work – see 'media' page for more information. We continued to support existing projects, such as the medical centre and Casa de Bristol.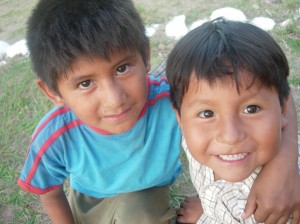 Our major new undertaking was the renovation of the Prevention House. A couple of years ago Alalay began a new initiative: seeking children from the local area who were at risk of going on to the streets and working with them to prevent this happening. Ninety children (who do not normally live at Alalay) come to this on-site house to receive help with school work and life-skills classes. Their families are also invited to parenting skills sessions, and bakery and textile workshops. The house was in dire need of repair and renovation – with broken windows, no running water, inadequate classrooms and so on – so we have been creating a much healthier learning environment for this project.
In addition, this was a year in which much of our investment focus was on the development and education of the children living at Alalay.
A further 40 children were funded through English courses.

Six more adolescents were supported through vocational training.
Once again, we provided funds for the children to make their own school uniforms in the on-site textile workshop.
We funded the salaries of five house parents so they could continue to look after the kids. House parents are vital at Alalay as they care for the children 24 hours a day.
The street children also made over 1,000 beautiful hand-made Christmas cards, which we sold in the U.K. to raise money and awareness.
The above projects were also supported by: Cotham Parish Church; English Speaking Union (Bristol and South Wales branches); James and Maria; the LATA Foundation; St. Barts Ladies' Circle; QEH School; St. Brandon's School Old Girls' Society; the Trailblazers group at St. John's Church, Crowborough; Ben Ecclestone and Gary Sidders; Tudor Hall School's young enterprise 'Agape' group; Howells School, Llandaff; Redland Allotment Association and Dr. Jazz charitable fund; Cotham School charity group, the Billinghurst family; the Saltford Walkers; Niton Methodist Church, Isle of Wight, St. John the Evangelist Church, Gloucestershire; Jakobek House at Bristol Grammar School; Christine Jackson of Cruse Bereavement Care; Clifton High Prep School; Honister Partners; Pronta Print, Fishponds; All Saint's Church, Clifton; 'J's Clothes Exchange', Staple Hill; 'Treasure' charity shop, Stokes Croft and many, many other generous people.
In February we ran our first school visit to Alalay. A group from Tudor Hall, Banbury worked incredibly hard in a short space of time, and managed to repaint the basketball court, children's playground and paint a mural whilst also playing with, and helping, the children. They brought lots of toys and games with them, which will be used as birthday presents for the kids. The group were the first to stay in the newly renovated Casa de Bristol, and also attended the opening ceremony of the house.