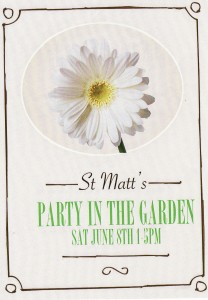 Everyone is warmly invited to an "all age" party in the garden of St Matthew's Church, Clare Road, Kingsdown on Saturday 8th June from 1pm to 5pm.
It will be an afternoon of fun with food and drink, music, games, bouncy castle, "whack the rat", arts and crafts for all, nearly new sale, the great egg-drop competition and much much more! Entry is free but there is a small charge for some activities.
Friends of Alalay will have a stall offering a variety of Bolivian-themed activities. Colour in a llama picture to take home, find out more about Bolivia and Alalay's work and even try out traditional Latin American games…
We look forward to seeing you there! More information and directions available HERE.