Most of our recent posts have been about hope and solidarity with our Alalay family in Bolivia during these uncertain times. We know that our kids are safe and well protected, but what about the many boys, girls and young people still on the streets? Or those who are not safe in their own homes across the World? This danger is increasingly prevalent as the crisis deepens and more people face health issues (physical and mental), loss of income and status, financial and food insecurity and fears for their future, amongst a multitude of other concerns.
This desperate article demonstrates the plight for many in Bolivia who do not have safety, care and protection, and is well worth a read: "In lockdown Bolivia, calls from abused girls flood hotline".
Police says more than four dozen cases of violence against children have been reported on average a day in Bolivia since the lockdown began
Read more about this horrific (and sadly growing) worldwide "shadow pandemic" of violence against women and girls HERE (UN Women) and against children now trapped at home HERE (UNICEF) (in Spanish).
The below image was shared by the Alalay Foundation via their social media pages. It was published by the Bolivian State Attorney General and states "family violence is a crime", offering telephone hotline numbers for those affected to ring. From 15 March – 12 April, Bolivian state agencies dealing with family violence reported attending to 1,216 cases of intra-family violence nationally during the quarantine, of which four had tragically ended in femicide. Watch a video about this report HERE (in Spanish).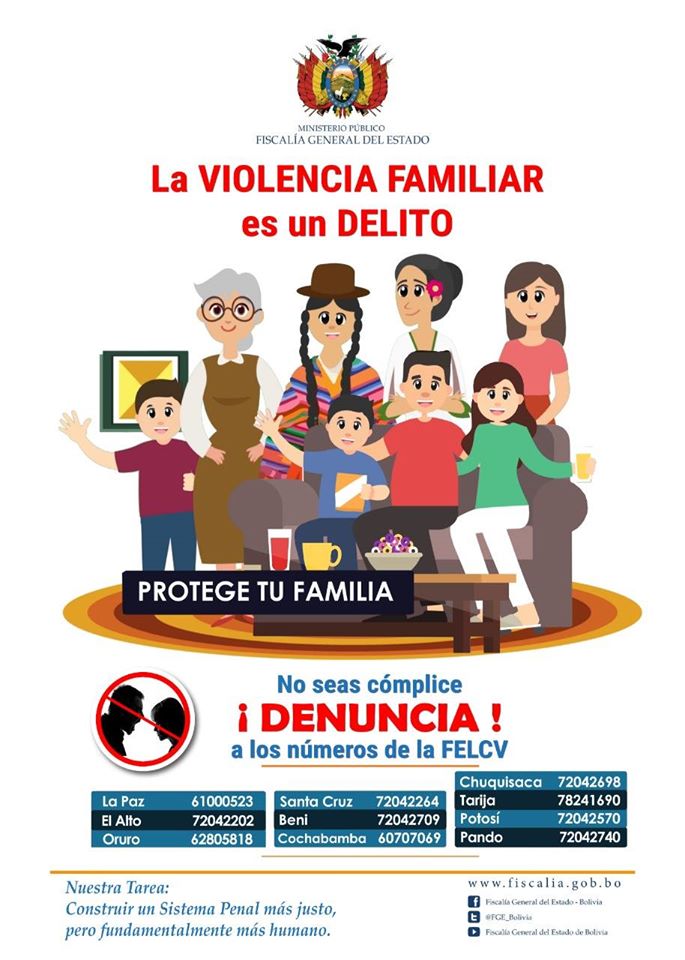 Let's all be alert to those facing danger at home (child or adult, near or far) and support them if we can (and it is safe to do so). Click HERE for some great resources about support in the UK if you (or anyone else) needs it during the current time.