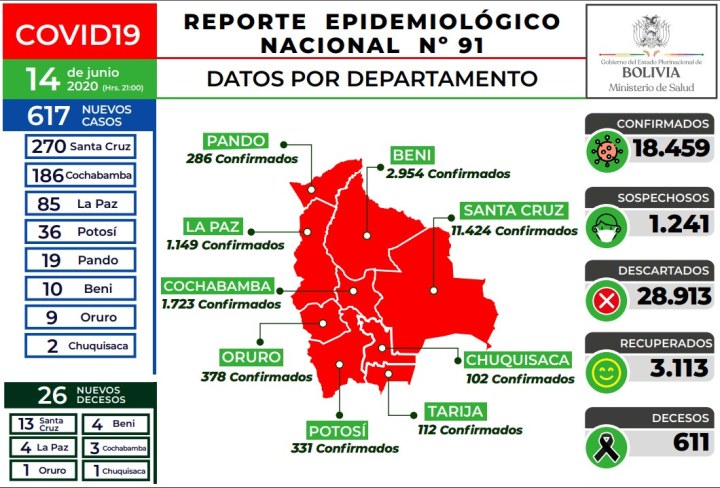 Cases of COVID-19 have "surged" in Latin America in recent weeks, with the World Health Organisation declaring it to be the "new epicentre" of the pandemic. Although cases are currently highly concentrated in Brazil, Chile, Peru and Ecuador, we absolutely do not want to be complacent at how quickly the virus could spread.
According to the Bolivian Ministry of Health, as of 14 June there were 18,459 confirmed COVID-19 cases and 611 deaths in Bolivia. Of most concern to us, the Santa Cruz region has by far the highest number of cases and assessed highest risk level, meaning the regional authorities can enact additional measures if needed (11,424 confirmed cases, compared with the next highest region of Beni with 2,954 cases).
Of course, it is much too early to understand the reasons why there are fewer cases in Bolivia overall, and such a marked regional in-country difference – we would never even begin to guess with our limited medical knowledge. However, alongside innumerable other variables, Santa Cruz generally has good private hospitals (for those who can afford to pay) so perhaps has more testing; plus scientists are even probing the link between high altitude (such as La Paz and other regions) and low coronavirus cases. Read recent Financial Times article on this topic HERE.
The Bolivian nationwide lockdown has been extended, but with certain loosening of rules since the 1 June (for example, people are now allowed out between 05:00am and 18:00pm Monday-Friday, with more restrictions at the weekends). You can read more HERE (in English) or see the Bolivian Government special website HERE (Spanish). As previously, breaking the rules can mean fines or even prison sentences. However with such a fragile informal economy, I suspect people may take increased risks to feed their families. The Pan American Health Organisation (PAHO) mentions big gaps and challenges within the Latin American social and healthcare systems, including counterfeit tests and fatigue of local population regarding lockdown, alongside a serious lack of intensive care facilities and resources (PPE, laboratories). If interested, find out more by downloading latest PAHO report (1 June) HERE (specifically final page).
Although we understand that a strict lockdown needed to be in place (the healthcare system would not be able to cope with the virus otherwise), and now Bolivia needs to get the economy running, our worry is that the loosening of restrictions could mean increased infection rates in the coming weeks. It's a tough decision either way.
We have made the unprecedented decision to send emergency funds to Alalay (more about this in latest newsletter, coming soon) as we want to ensure they can continue feeding, educating and looking after our kids, plus have the finances to support purchase of PPE or fund medical costs in a worse case scenario.
Alalay is continuing to follow strict protocols and carefully designed materials to educate and protect our children. After the tragic death of the husband of Alalay founder, Claudia Gonzales, we are taking no chances.
Despite a recent pronouncement by the World Health Organisation / PAHO that "The Americas remain at the forefront of the fight against COVID-19. As of June 8, we have more than 3,3 million cases reported in the Region of the Americas, more than any other region around the world. Today we are home to nearly half of all COVID-19 cases", we remain positive for our work and I am relieved and happy to say that so far we have managed to protect everyone at Alalay in Santa Cruz from the virus.